Drum Bundle TRIO Review By Tools4Beats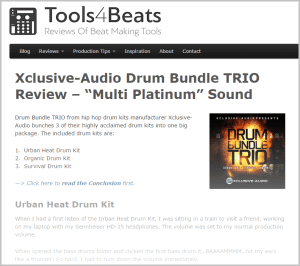 "Xclusive-Audio have done an awesome job with Drum Bundle TRIO. A whole lot of creativity, sound design skills and time must have been put into each of these kits.
Although Survival Kit already comes with a wide range of complex high quality drums and percussion's, it's the sound quality of Urban Heat and Organic Drum Kit that is simply stunning. It's the big, fat, glossy sound of multi platinum productions with pounding low end, crisp mids and silky highs.
The 1500+ one shots contained in Drum Bundle TRIO are a beat makers dream come true and should keep your creativity and excitement fired up for some time to come." – Marc/Tools4Beats